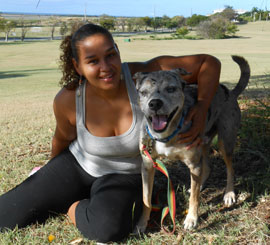 I'm an avid animal lover and advocate. Having been raised in the islands, I naturally enjoy being outdoors. As a child and young adult I was surrounded by both domestic pets and island exotics. My unconditional love for animals has led me to a career in marine and wildlife management, where I needed to feel like I was making a difference. However, I wanted to run with the pack. So, in the summer of 2012, I decided to share my passion of animals with my community - hence Pawsitive Living was born.
I, like you, consider my pets to be members of my family. I currently share my life with my two fur babies: Fauna and Gizmo; both rescue pets.  I'm a long time member of the American Society for the Prevention of Cruelty to Animals (ASPCA) and the World Wildlife Fund (WWF). I've also been volunteering at the Humane Society of St. Thomas (HSSTT) since high school, and it was there I gained experience handling dogs. Continued involvement with HSSTT provided the opportunity to receive a partial scholarship to pursue my graduate studies in Marine & Environmental Science. My experience includes caring for and maintaining marine animal enclosures, having worked for a time at Coral World. Along with a ten year career in marine and wildlife management.
I hope to bring my long time love for animals to your pets, in the safety and comfort of your home. If you've never used a pet sitting service before, then you're in for a 'pawsitive' experience! Your pets will benefit emotionally and physically by having a pet sitter....so give us a try!!! Fill out our Reservation Form to get started.
****Childhood Pet Pics****